TOP-5 cute monuments to snap a photo with.
This list is not completed. To be continued!
1. Monument to heroes of the film-comedy "Chasing two hares"
It is very popular sculpture and the first one in Kyiv created in the entertaining way. It has become a favorite monument of tourists, kyivans and especially newlyweds. And it has got already so many superstitions since it was built in 1999. Traditionally, men rub a scarab beetle on the coat of the man figure. They say it presents male power. It might be truth because this beetle is picked up from time to time. And woman polish rings on lady-figure's hands so that all female wishes can come true.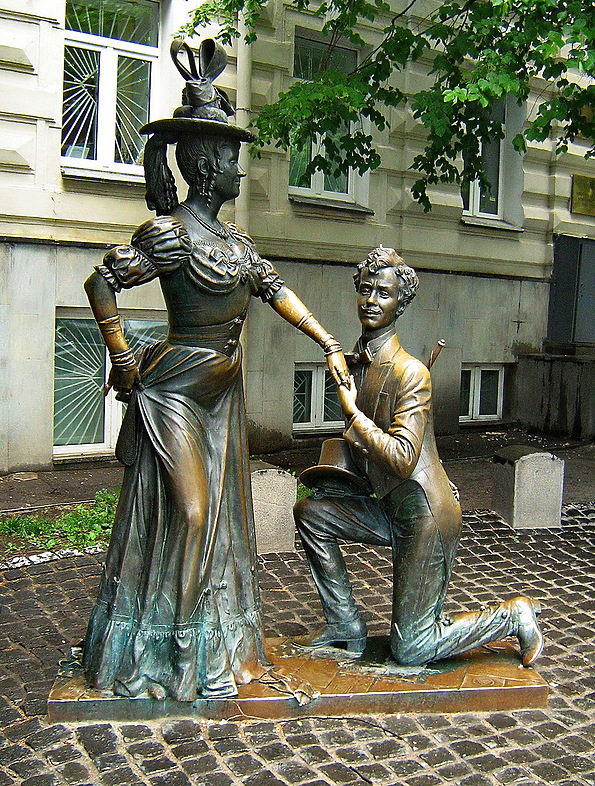 Address: 4-6 Desyatynna str.
2. Cat Pantyusha 
This monument is devoted to a real cat. It used to live here in a nearby restaurant. This cat is very affectionate. There is a superstition that you need to pet the cat gently and whisper your wish. Pantyusha promises to make all wishes true.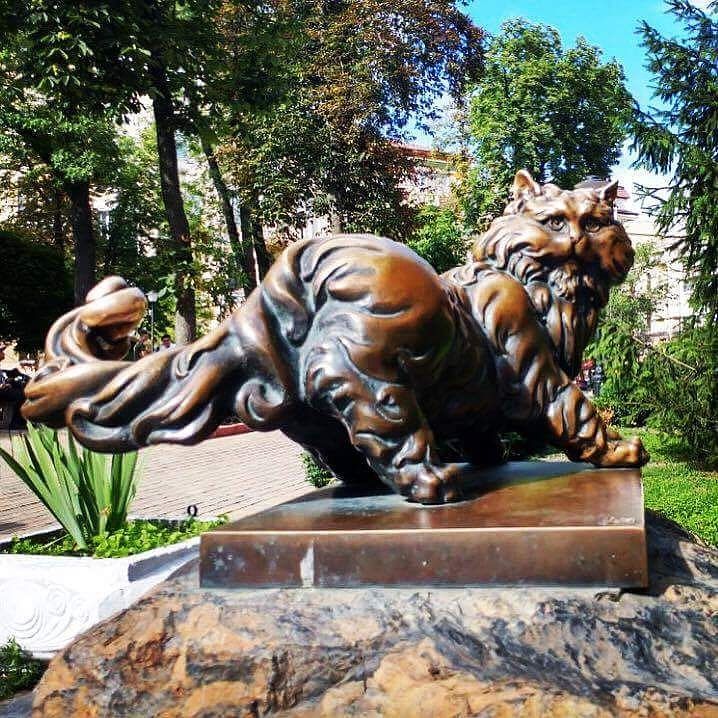 Address: 3 Zolotovorotsky proizd
3.  The Nose
It's a very cute sculpture! It is exciting in Kyiv in addition to people and animals frozen in the monuments! Nose-monument is dedicated to Nikolai Gogol - Russian writer, dramatist with Ukrainian origins.  It's creation is based on Gogol's story "The Nose» and on a local legend:  Gogol caught cold when he was visiting Kyiv. It has happen after the writer walked via Andrew's Descent in the rain. He caught a runny nose and in this way the idea of ??a story «the Nose» appeared and later - monument to the Nose.
Address: 13 Desyatynna str.
4. Monument to a thief.
The "great blind" thief Michael Panikovsky from the novel "The Golden Calf" written by Ilf and Petrov is located on the «corner of Khreshchatyk and Proreznaya» streets. Panikovsky is depicted «at work»: in dark glasses he pulls his left hand behind to still a wallet of a passerby, who helps him to cross the road. This funny monument also has a secret on the sole of the left shoe. To see the secret you need to kneel before a thief.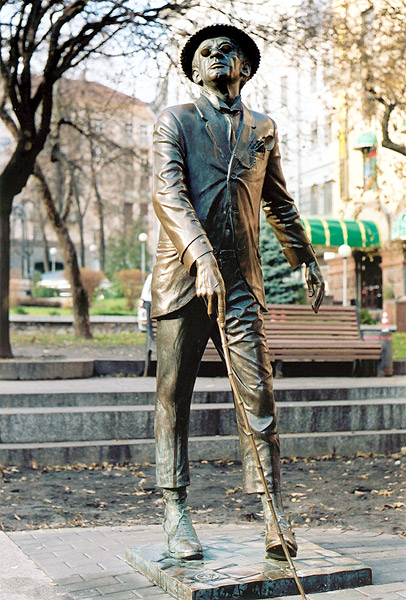 Address: 6 Prorizna str.
5. Piggybank-monument - a Frog
Very funny sculpture of the giant frog doesn't remind us about envy, but it is dedicated to financial well-being. You need simply throw the coin into the piggybank in frog's mouth. The size of the bronze monument is very impressive - 6 tons. I wonder when this piggybank will be fulfilled ???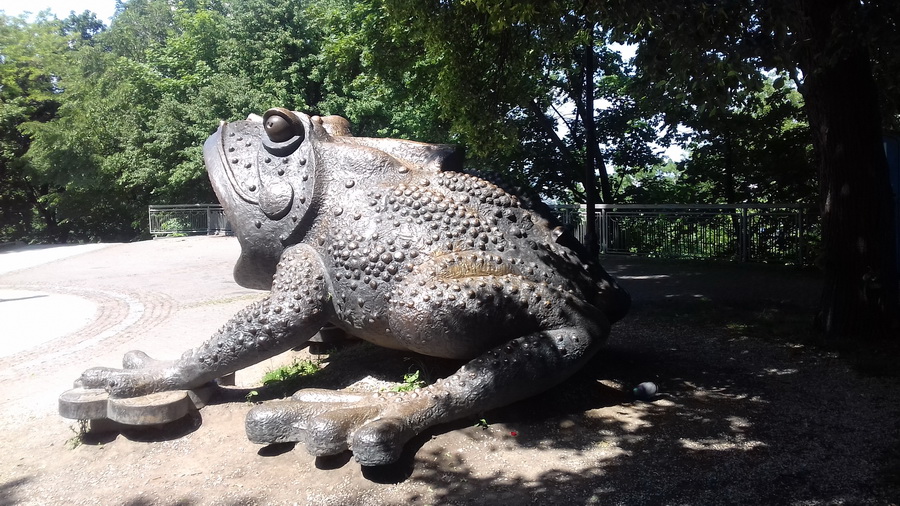 Address: 1Б Grushevskogo str., Khreschatiy park
There are many curious monuments in Kyiv! We gladly share with you all interesting insider's information! And we invite you KievColours sightseeing tours.
Feel free to contact us:
e-mail: kievcolours@gmail.com
tel.: +380975603691, +380502247587 (viber, whatsapp, telegram)